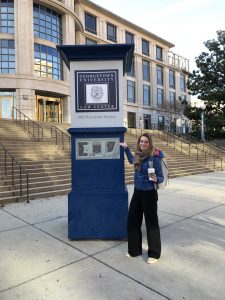 Hi everyone,
My name is Dorieke, a 2020 Fulbright scholar at Georgetown University in Washington D.C. I have a background in international relations and in law. And after enjoying quite an extensive curriculum at universities in the Netherlands, I felt lucky to be employed by the Dutch government. However, studying law at a pristine American university has always been something that I wanted to do. And in my work as a legal advisor on international economic law, I not only dealt with complex international treaties, but increasingly had to deal with implementation in national jurisdictions. And an understanding of American lawmaking became even more apparent with an 'America first' president serving his term in the White House. Hence, 2020 would become my 'academic' gap year; a year to update my knowledge of international trade law, get introduced to the American legal system and most of all, to get to know the American culture and people and be one of them for a little while.
The year itself flew by. And all clichés are true. Georgetown Law school was impressive, located only 400 meters of the Supreme Court and the Capitol, it was truly at the heart of American lawmaking. The students and professors were really the best they could select from home and abroad, the competition was fierce, level of education high. While I was the only Dutch student that year, I was quickly adopted by the Latino group. I had chosen a full curriculum, with a lot of variation between new and upcoming topics in the field of law such as national security law and laws of artificial intelligence. Also, I greatly enjoyed the courses in American law, such as Torts and Constitutional Law. Particularly at that last course, I was always an active participant in class debates, eager to express my opinions and share my sense of fairness and 'equality for the law'.
That feeling became even more apparent during the last months of my stay, when I visited the Black Lives Matter movement marches every day. I was intrigued. On the one hand I was filled with sadness, on how injustice and inequality had become such an inherent part of the American system for which apparently no easy solution existed. And on the other hand by admiration for the brave men and women who continued to ask for change after generations of injustice, step by step, towards equality. And the solidarity and support of bystanders who provided hand sanitizers, free food, free toilets and the volunteers who cleaned the streets the day after. It was thrilling to experience this culture of protesting and marching, especially if you'd come from a country where protests are rare.
It was thanks to my flat mates and friends, that I learned so much about the American culture. Living in a house with Republicans and Democrats, with people from different states and backgrounds, you get to understand the nuances and the diversity that is really the United States of America. You also learn to shut up about politics and instead go to a party, cook a group dinner, plan weekend trips or climb upstairs to the roof to watch the Washington monument. Or go to Costco, a giant supermarket where even shopping carts are out of proportion.
That bond became even stronger thanks to the pandemic. When I returned from a spring break trip, Washington DC went in lock down. Everything was closed and Georgetown started to cater only online lectures. Far more boring, but it was thanks to this mandatory confinement that I graduated with honours and distinction. And that I learned kick boxing, became a bit more pro at our regular karaoke nights and gained enough weight from regular grill parties. They even threw me my own graduation party when the university cancelled the real one. After graduation, "red" states had opened again, allowing me and a friend to make a long road trip south of Washington, through the mainland of the USA. Camping and hiking through the Appalachian Mountains while almost nobody was there, was truly a unique experience.
Looking back on 2020, I can't thank the Fulbright Commission enough for this amazing year. Despite (or even maybe thanks to) living through a pandemic, it was a hell of a ride, in which I learned a lot at the university, but also in life. Thank you for letting me share some highlights of the year with you and for those who are hesitating to apply, I can recommend you to just take the jump!