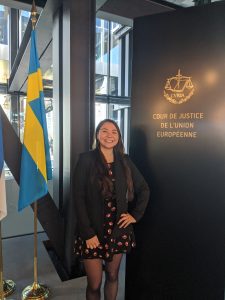 I just wanted to provide a brief update about my time last week at the EU-NATO Fulbright Seminar and to share some fun photos!
Overall it was such an amazing and once in a lifetime experience, and I am so thankful to the Netherlands Fulbright Commission for making it possible for me to attend.
The event was very unique because it brought together 50 Fulbrighters stationed all over Europe, and who all had very different research interests/ Fulbright projects. Getting to spend a week getting to know my fellow Fulbrighters and learning about their countries and related research/ teaching/ study projects was a huge highlight! It was a very diverse group both of backgrounds and of interests that gave a really unique look into the diversity of experiences represented in the United States.
During the week we were able to visit the EU Court of Justice in Luxembourg and meet with a few staffers who gave us the inside look about what the role of the court is within the EU. We were given a briefing of a case and then actually got to witness the case hearing. This was a really unique experience to see how the court functions and to be able to ask questions to these experts. (This was also really relevant because one of my current courses was discussing the role of courts in protecting the environment, and we had been studying a few of the rulings that the court had made)
We were also able to visit the EU Commission and learn about their role within the EU. This was a really fascinating visit that taught us all about the inter-workings of the different EU legislative bodies and how they function together. The representatives also gave us the opportunity to ask questions about our specific topics and interests and they were gracious enough to answer all our questions in depth and thoughtfully.
Another highlight was visiting NATO's headquarters in Brussels and getting to talk with both European and US employees who work there. Through these presentations we got to learn more about the role that NATO has historically played and the current relationship between NATO members and the US. Being able to ask questions and to have employees respond honestly about the current US relations was a very refreshing and unique experience. This was an especially relevant time because under our current administration there has been a lot of rising tensions between this long standing alliance and the US. It was reassuring to be able to talk with the employees who manage these relationships on the day to day, and gave us better insights to the strength and bond between the US and its partners in NATO.
Besides the more educational and professional events, we were also able to have a lot of fun exploring Luxembourg and Brussels. A few highlights were being treated to freshly made Belgian Waffles, taking a hot yoga course led by the Belgian Fulbright Commission Director- Erica Lutes, and having our own private banjo concert put on by one of our fellow Fulbrighters stationed in Romania.
I cannot thank the Netherlands Fulbright Commission enough for selecting and sponsoring me to attend this conference. It will definitely be a highlight of my Fulbright year! I have gained so much more knowledge about the inter-workings of the EU, the relationship between the US and the EU/ NATO, and I have made some really great connections with people I may never have had the chance to meet.
Thank you again for such a wonderful opportunity!
Kimmy Boyle