News from the Fulbright Commission
Welcome reception for American Fulbright grantees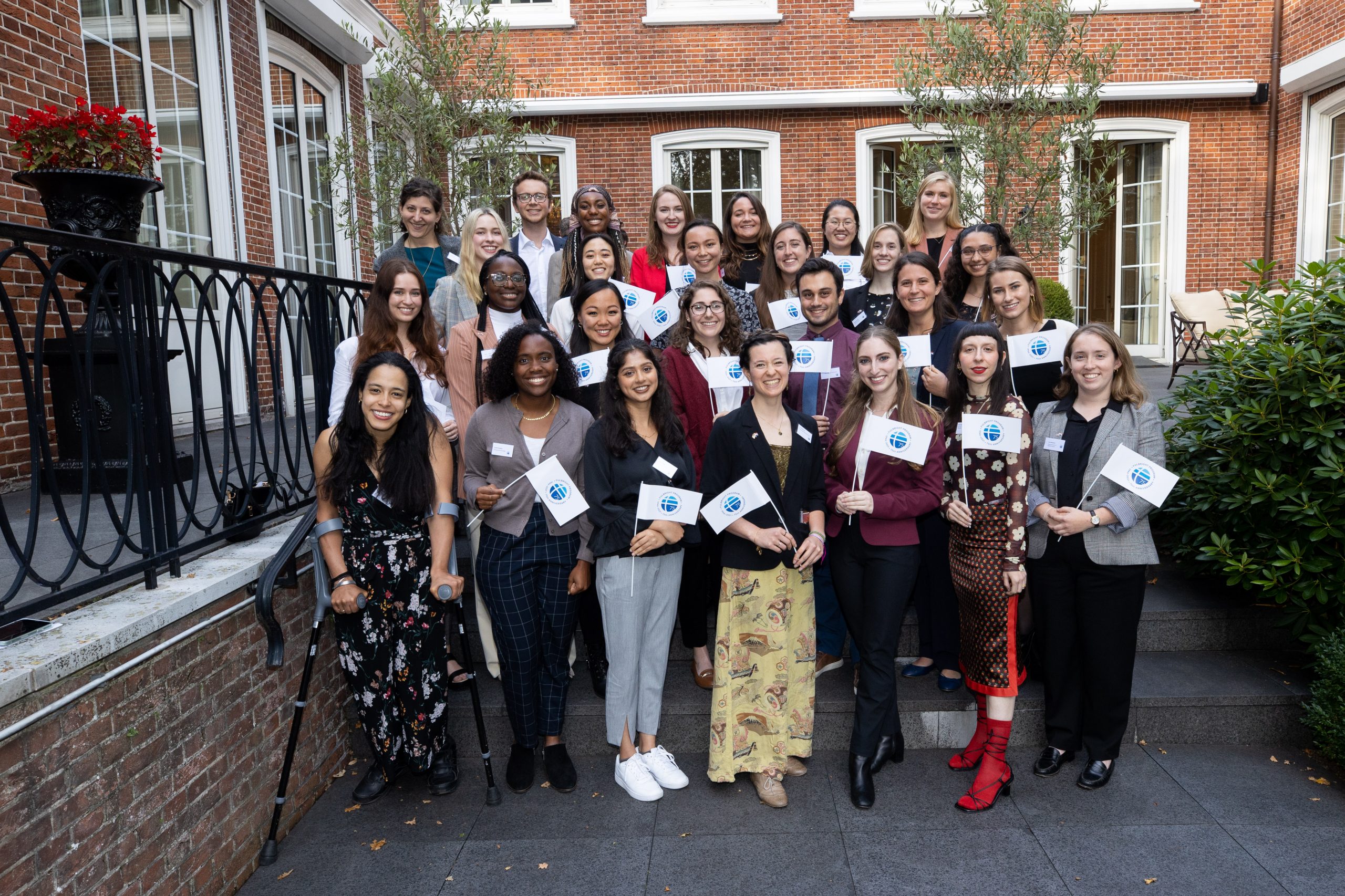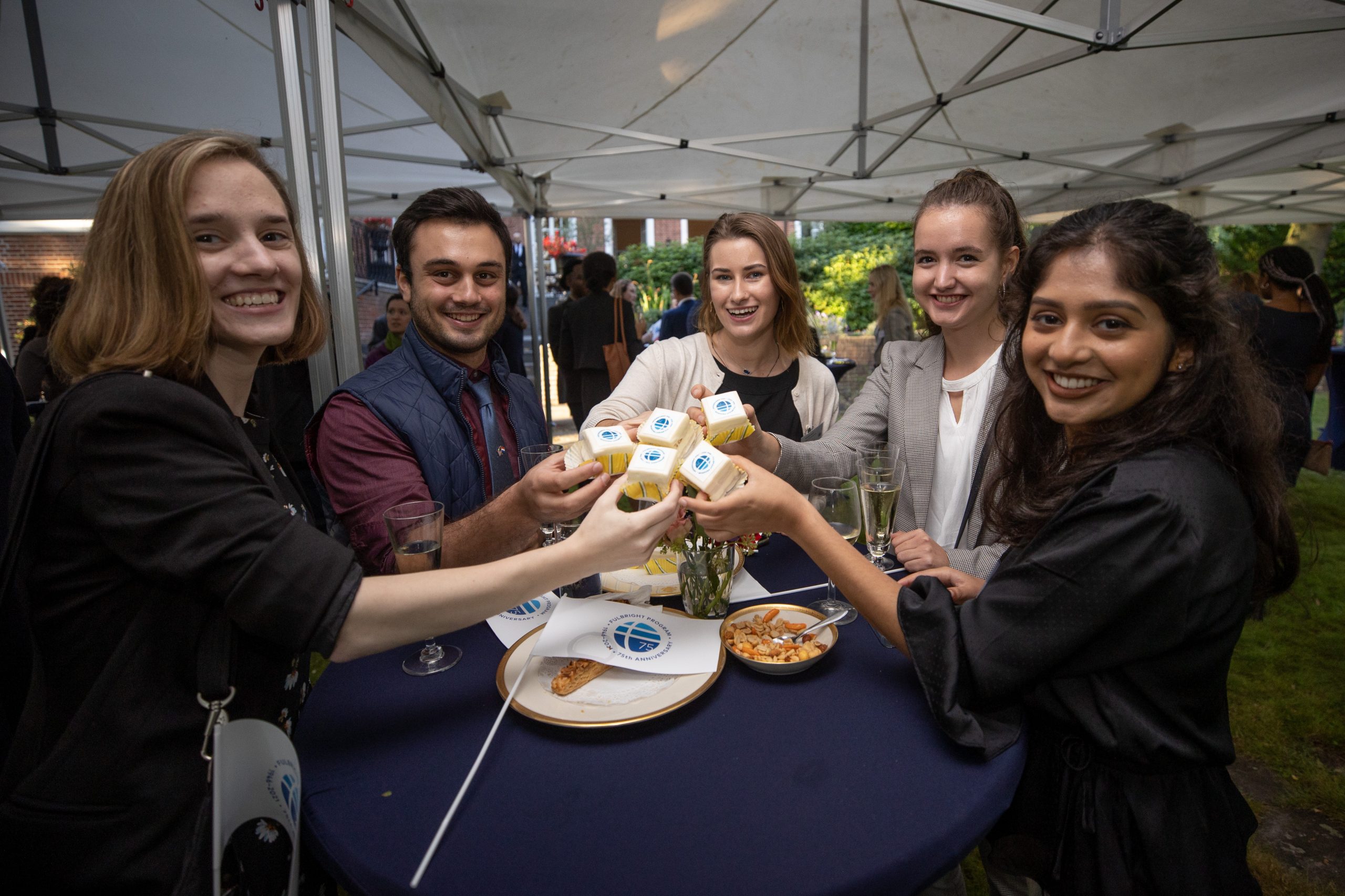 The American Embassy welcomed our newly arrived American scholars, graduate students and English Teaching Assistants at the American ambassador's residence in The Hague.
The reception was held in honor of the 75th anniversary of the Fulbright Program this year. A great moment to reflect on the impact that the Fulbright Program has had worldwide because of the thousands of grantees that have had the opportunity to learn and work in each other's nations. Fulbright has facilitated the academic exchange between the United States and other countries for 75 years of which 71 years with the Netherlands. The positive impact it has had does not only influence academics but also spans across individual lives and a general understanding between our societies.
We are not only reflecting back on our history but also looking towards an exciting future. The coming 75 years we expect that talent from both the Netherlands and the United States will at the very least match the achievements of those who have gone before them. All future participants will continue to contribute to collaborations and new discoveries. Fulbright will remain committed to offer equal opportunities to exceptional students, academics, teachers, artists and professionals from the Netherlands and the United States.
Before the reception, a welcoming-program was also organized by the U.S. Embassy for American students, ETA's and scholars. They were invited to attend lectures that focused on Dutch culture from several different perspectives.
The speakers attending were;
Mr. Ryan Roberts, Counselor for Public Affairs, U.S. Embassy
Mr. Christward Gradenwitz, Executive Director Fulbright Commission the Netherlands
Mr. James Kennedy, Professor Modern Dutch History at Utrecht University
Mr. Omar Cardentey, Deputy Public Affairs Officer, U.S. Embassy.
Through these lectures the Americans were introduced to the basics of the Dutch political system, a brief history on the Dutch and were given a Dutch/American perspective on diversity and diplomacy.
The Fulbright Commission congratulates the 2021 Fulbright grantees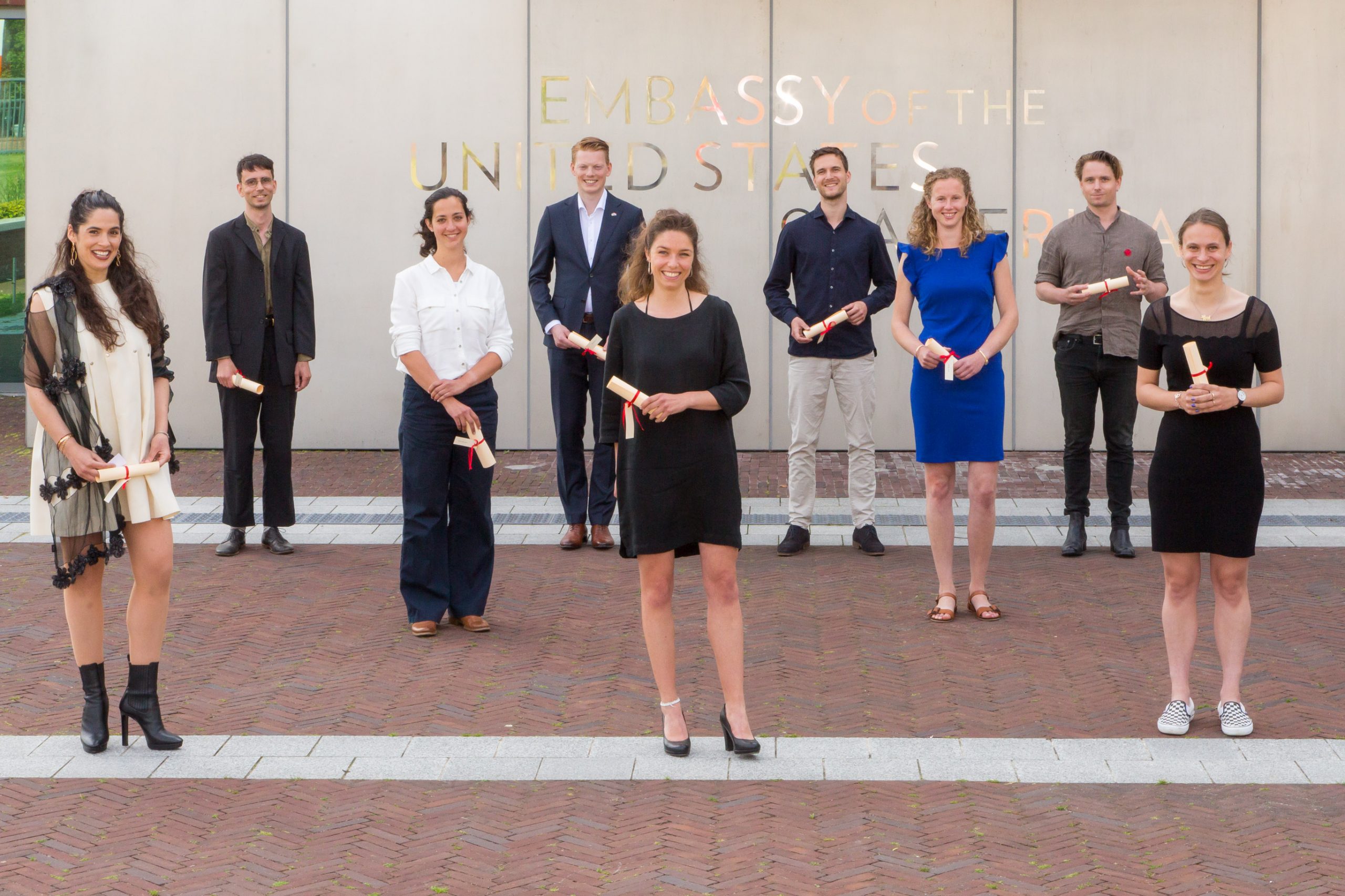 The Fulbright Commission the Netherlands was very pleased to organize its annual award ceremony for Dutch Fulbright scholarship recipients at the U.S. Embassy in Wassenaar on June 8th. In this special year, which marks the 75th anniversary of the Fulbright program, 19 Dutch scholars, PhD researchers and graduate students attended a hybrid award ceremony together with officials from the Dutch and American government, Fulbright staff and alumni. The ceremony was live streamed for family and friends to attend.
Among this year's speakers were
Ms. Marja Verloop, Chargé d'Affaires of the U.S. Mission to the Netherlands
Prof. dr. Anton Pijpers, Chair of the Fulbright Commission Board
Mr. Gerbert Kunst, Director of International Policy, Ministry of Education, Culture and Science
Ms. Trix Mulder, Fulbright Alumna, University of Maryland
Mr. Aydan Figaroa, Fulbright Alumnus, Yale University
Dr. Christward Gradenwitz, Executive Director of the Fulbright Commission
"This is the first event we are hosting in the Embassy since the pandemic began and I'm so glad we are using it to honor you," said Chargé d'Affaires Marja Verloop as she welcomed the grantees. "For the last 75 years, Fulbright has been enriching lives, supporting research, and building bridges across the Atlantic. […] Senator Fulbright believed so strongly in the ideal of mutual understanding and people-to-people diplomacy that he did something decidedly American—he went to Congress and requested the establishment of the largest exchange program in history. 75 years later, Fulbright is known as much for academic excellence as it is for bridging cultures and for forming lifelong bonds. From the Cold War, to the rise of the Internet and now into this century, scholars like you have innovated, broadened our understanding of our world, and left their mark on Fulbright. Your Fulbright grants will open doors in ways you cannot imagine, you will gain new perspectives and learn to dream bigger."
Mr Gerbert Kunst, Director of the Department of International Policy at the Ministry of Education, Culture and Science added that "these are experiences you will never forget. And don't be afraid to dedicate yourself to a better world. You don't need to be a world leader or nobel prize winner to do that, although you never know what could happen!"
Chair of the board, Prof. Dr. Anton Pijpers said: "You will serve as ambassadors for your country, just as the incoming U.S. students and scholars will represent their country. What does it mean to serve as an Ambassador? I would say it means: be authentic, be open-minded, do not shy away from interesting or challenging conversations about either country. Learn and educate. Find common ground and celebrate it, acknowledge difference and try to respect it. As I am sure our speakers will remind us today, our two nations share deep and meaningful historic ties and a promising future. We are delighted that you will be a part of that future."
Our Fulbright alumni also had some good insights to share with the grantees.
Aydan Figaroa attended Yale Law School with a Fulbright grant in 2020-2021 and said: "Having this amazing Fulbright experience made me realize what my position was in the world, what my position was with the law, and now I can use the law to make the world hopefully a better place." He had one more solid piece of advice to share with our grantees: "Be open and honest. Be open and honest to yourself – it's ok to sometimes feel out of place and to miss your friends and family. And also be open and honest to others: talk to your peers, talk to your professors, talk to the people you meet on the streets. It will help you find your position in the world."
Fulbright alumna Trix Mulder attended the University of Maryland in 2019 and said: "Even if you spend most of your time in academia, make sure you also have time to speak to other Americans. There are different ways to go about this. My way was watching sports. I deliberately chose to go to games on my own. I noticed very quickly that Americans are very curious about the people sitting next to them, especially when they're sitting alone. I met the nicest people during those games. They told me so much about what it means to be in their city and what it means to be an American. Some of them even invited me for a meal to talk some more. Two years later, I am still in contact with some of them. I truly believe that combining the information I received from the people within academia and the information people outside academia gave me, helped me understand the American culture better. It also helped me understand American law better – because law does not exist on its own."
Finally, Executive Director Christward Gradenwitz shared more advice on how to approach the important mission of mutual understanding. "One way of looking at mutual understanding is to see the common ground. The U.S. and the Netherlands HAVE a lot of common ground. In essence we share the foundations that can be called the hallmarks of Western society, like freedom, democracy, and human rights. But mutual understanding is not only about what is the same. It is also about what is different. Not only BETWEEN our two countries, but also WITHIN them. If there is no common ground, how can we find the middle ground? We can learn from each other, by looking at how we try to deal with differences in our respective countries. Differences are good; diversity is great. Quite rightly it is a theme that is high on all agendas everywhere. By approaching mutual understanding the way I suggested, as Fulbrighters we can put diversity at the heart of our mission."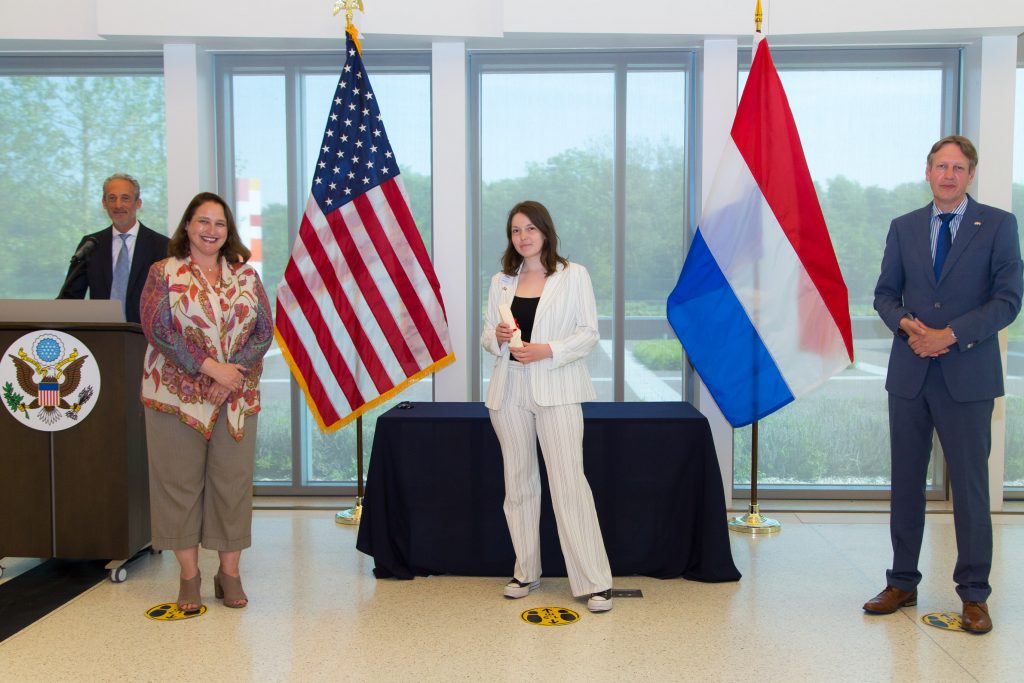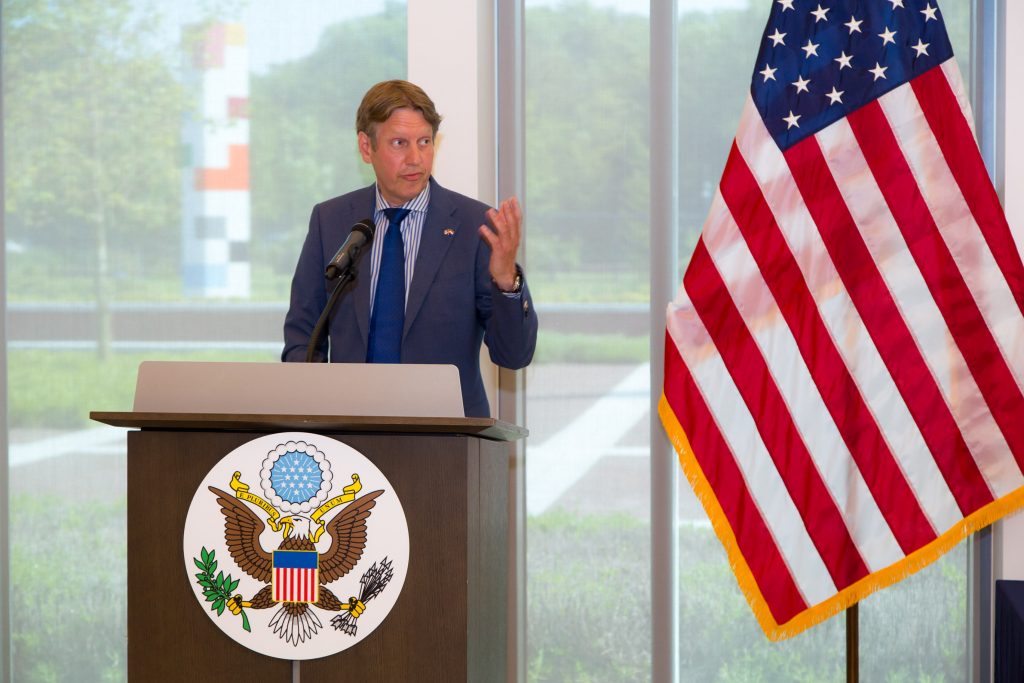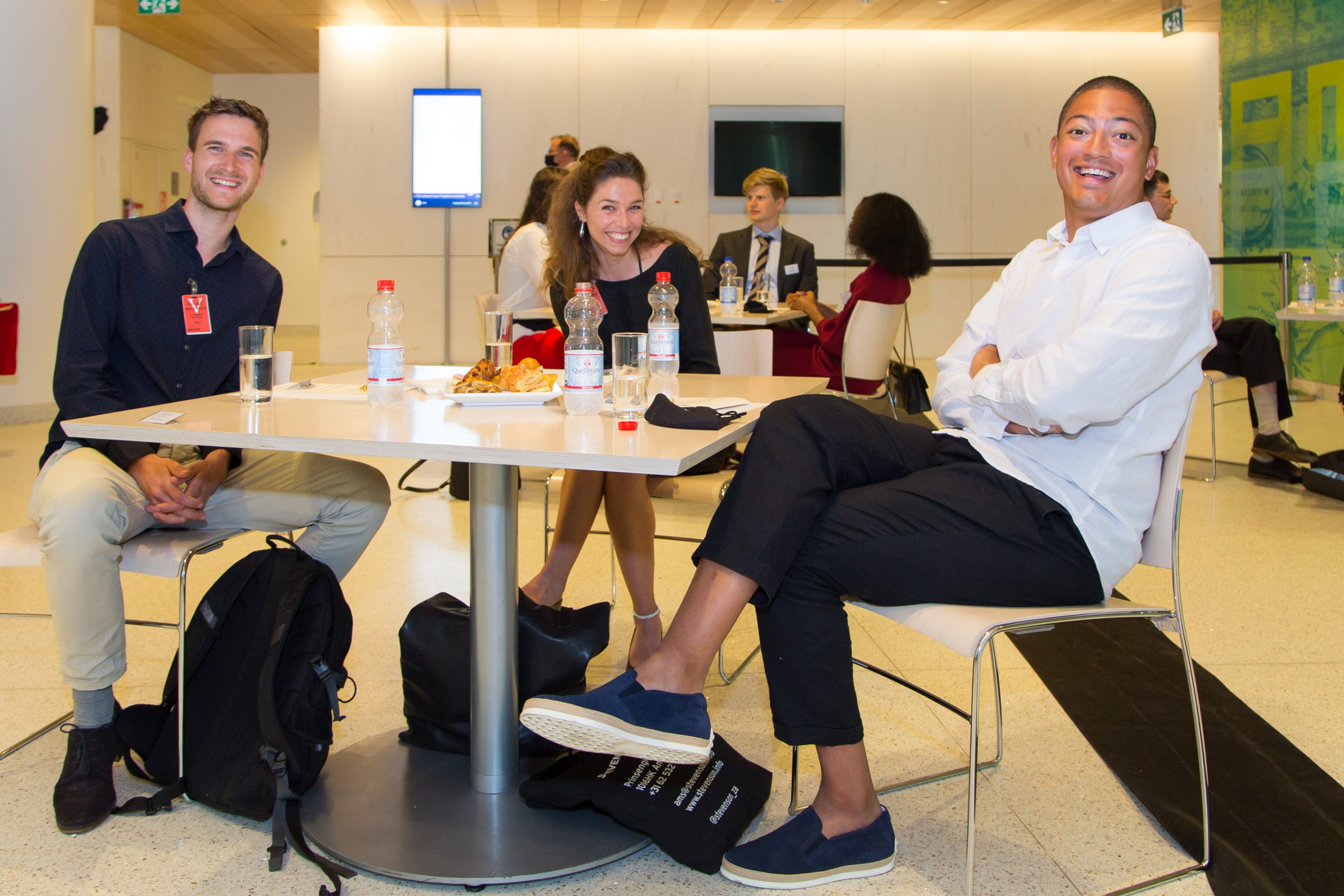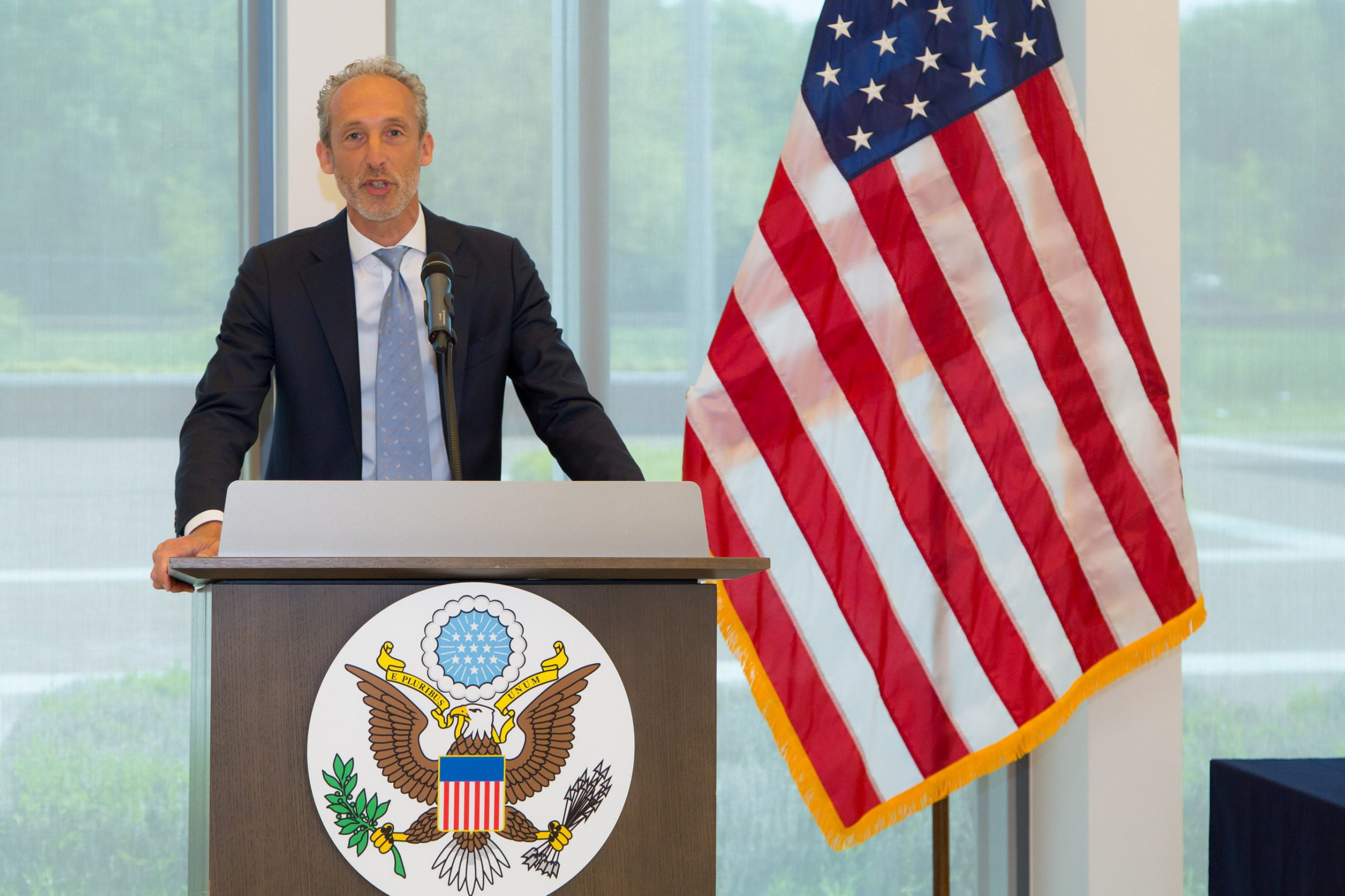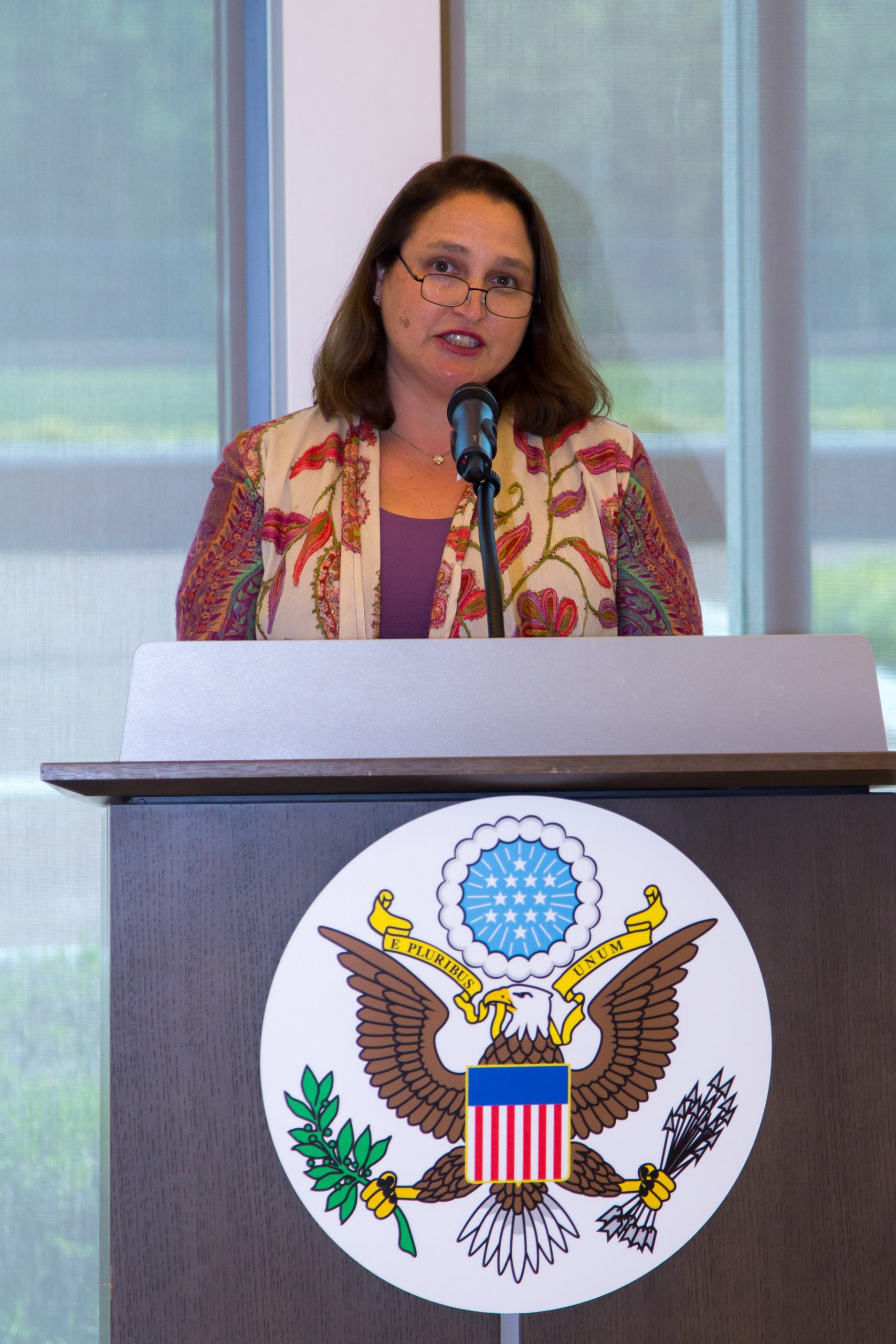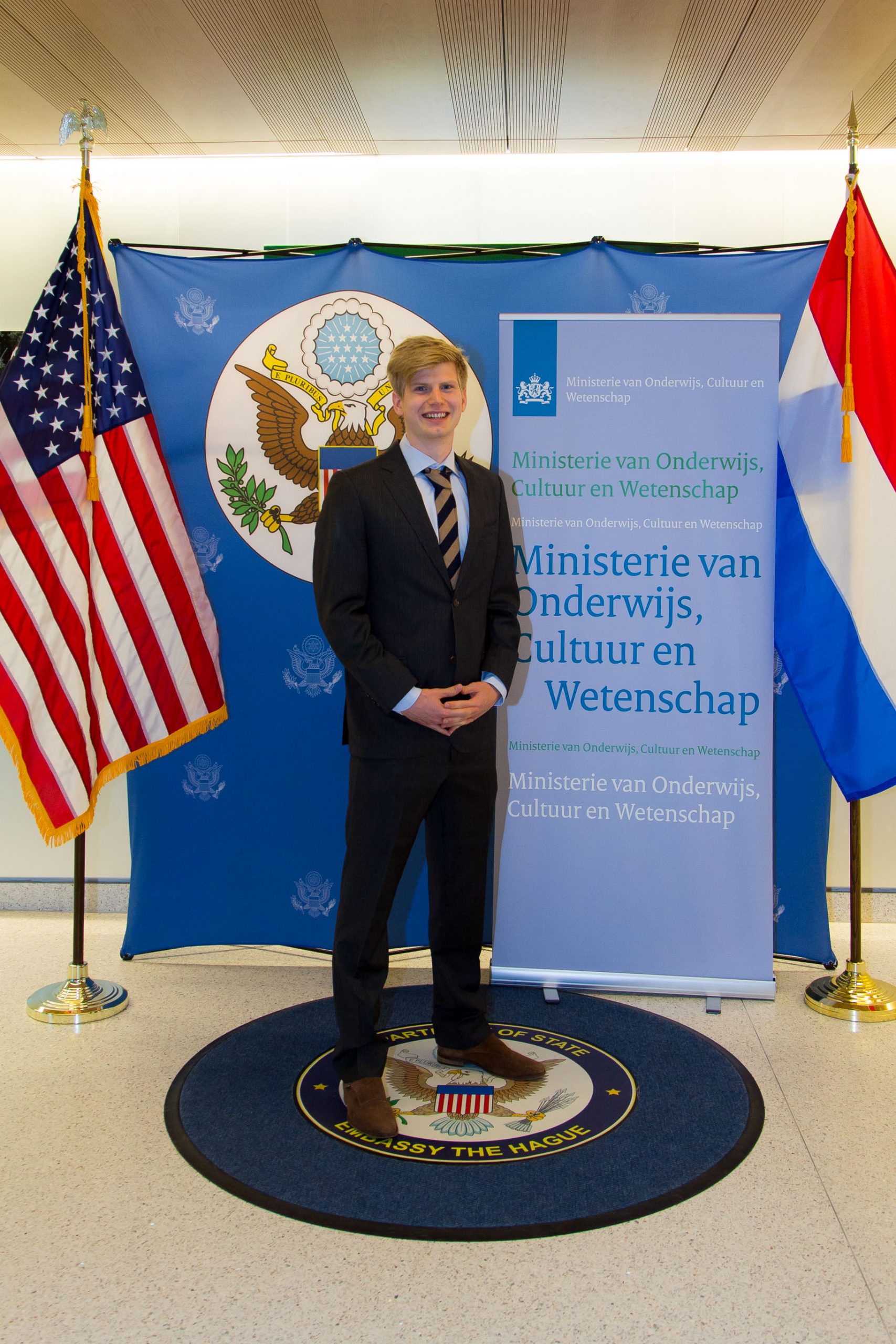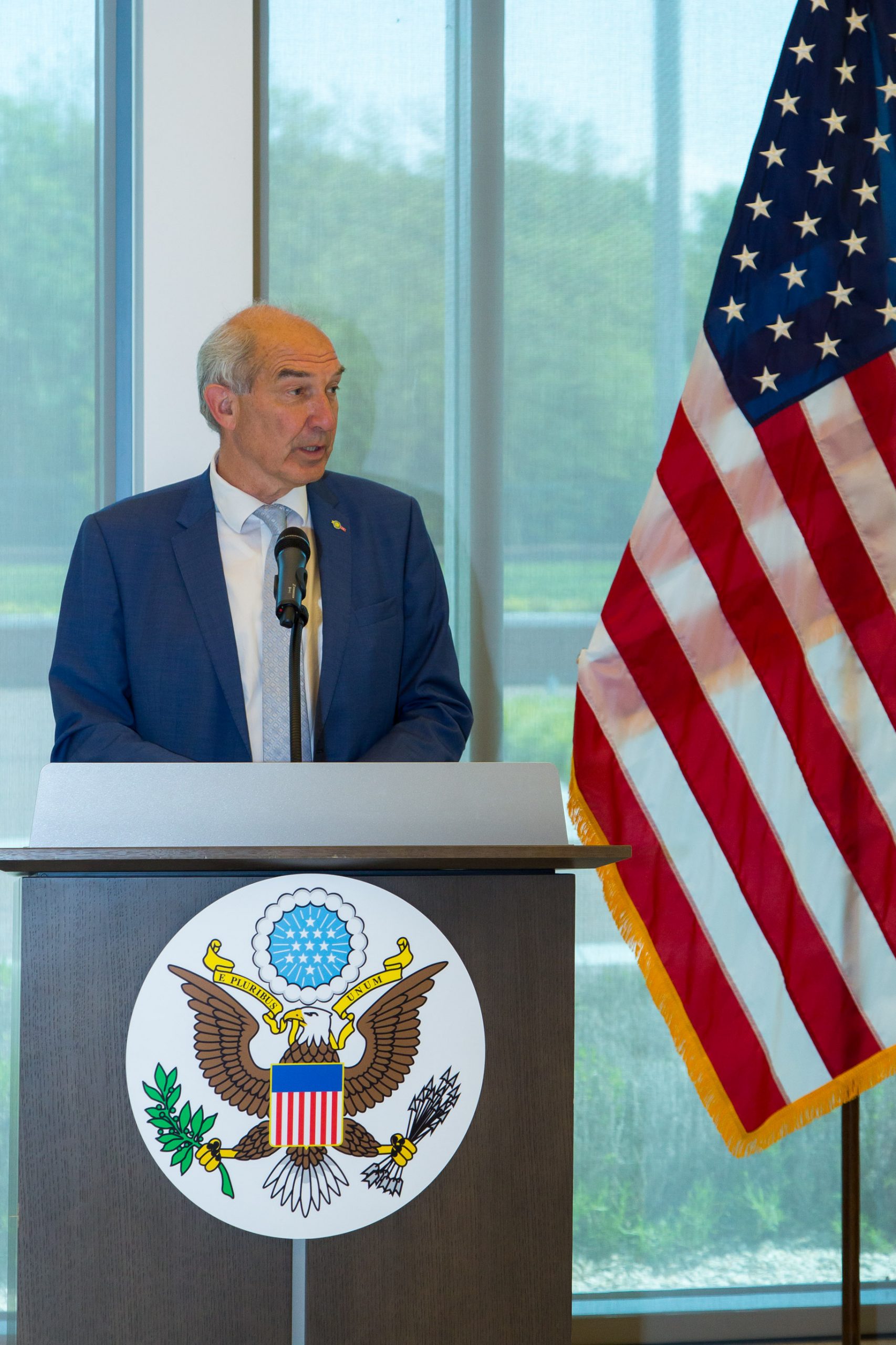 Announcing the 2021 grantees
For the 2021-2022 academic year, 19 Dutch scholarship recipients will study, lecture and/or research in the U.S.. We congratulate this year's Fulbright award recipients and wish them a successful and inspirational academic year in the U.S.
Scholar:
Roy Otten, Arizona State University
Promovendi:
Dirk Alkemade, New Netherlands Research Center (sponsored by NNRC)
Rob de Haas, University of Washington (sponsored by Elsevier)
Freek Heideman, New York University
Eva van der Linden, National Institutes of Health, National Human Genome Research Institute
Kim de Luca, University of California – Berkeley (sponsored by Elsevier)
Mirjam Meijer, University of California – Los Angeles
Stéphanie Noach, Harvard University
Mieke Slim, Harvard University
Lotte Spreeuwenberg, City University of New York
Simon van der Weele, Johns Hopkins University (sponsored by Elsevier)
Graduate Students:
Yussef Al Tamimi, Yale University
Joosje Bleeker, University of California – Santa Cruz
Georgina Booth, Columbia University
Sjoukje IJlstra, Harvard University (sponsored by the Netherland-America Foundation)
Justin Lindeboom, Harvard University
Lise Mitsinga, Columbia University (sponsored by the Netherland-America Foundation)
Inge Oosterhoff, New York University
Jeffrey Sprong, Yale University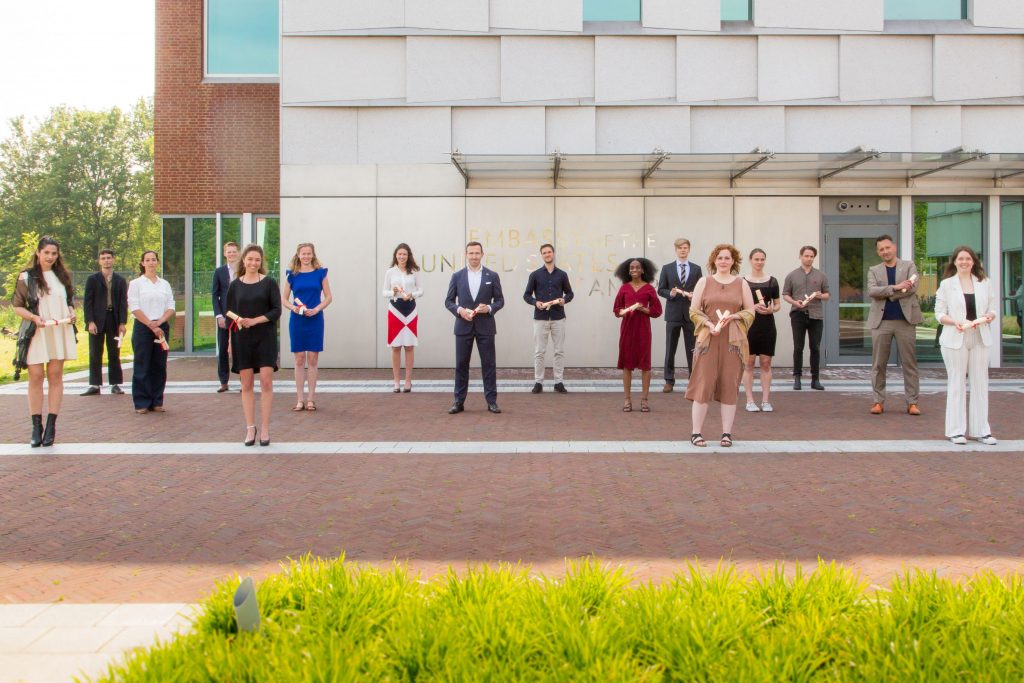 75 Years of Global Impact
In 2021, we celebrate the Fulbright Program's history of positive impact on the lives of individuals as well as on global and local communities. We look forward to the next 75 years of Fulbrighters enriching their educations, advancing their careers, and making meaningful contributions to society.
Since its inception in 1946, the Fulbright Program now operates in 160 countries and has provided over 400,000 students, scholars, teachers, artists, and professionals of all backgrounds and in all fields the opportunity to study, teach and conduct research, exchange ideas, and contribute to finding solutions to complex global challenges.
Fulbright alumni overwhelmingly indicate that their participation expanded their knowledge and understanding of their academic fields and resulted in real-world research applications. An alumni survey of 2005-2015 Fulbright U.S. Scholars found that 88 percent of respondents reported that they were exposed to new ideas and concepts in their field as a result of their Fulbright exchange experience, and 90 percent reported gaining a deeper understanding of their discipline and research area.
Visit the Fulbright 75th Anniversary website for more information and upcoming events.